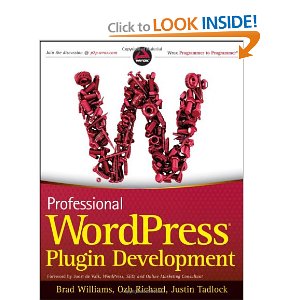 Many people question me how to build a custom plugin, how to do this or that.
I know WordPress fairly well, but I'm no absolute expert, and I simply don't have the time to answer to each and every request, sorry for that.
As far as plugins are concerned, The choice of GOOD resources is pretty limited. The first obvious pick is the WordPress Codex and it's API explanation.
I can understand it's a bit harsh for a starter.
Moreover, learning by example is not so easy: many, many, way too many WordPress developers are no pros, and the code of a majority of public plugins is far from a model.


Last year, that's why I bought "Professional WordPress plugin development".
This book is written by 3 well known wp developers.
It uses a practical approach to the plugin development, and covers a wide area of plugins, including multisite as well as best practices and common pitfalls.
If you are a php coder, and want to give WP plugins a try, this is THE book to read.
A full chapter is dedicated to marketing your plugin.
Even if you are a seasoned plugin developer, you sure will find a lots of goodies, as I did